Calibir GX Uncooled IR Camera
| | |
| --- | --- |
| Product Family | Calibir GX Series |
| Part Number | SEE Chart |
| Camera Type | Area |
| Sensor Type | IR |
| Sensor Size | Other |
| Mount | M25 |
| Resolution | see chart |
| Interface | GigE Vision |
| Color/Mono | Color, Monochrome |
| Frame Rate | See Chart |
| Max Frame Rate | Various |
Salient Features
 LWIR Camera
Teledyne's Latest Microbolometer Technology

The Calibir GX camera family features the latest microbolometer sensor, designed, fabricated, and packaged in our own foundry. With great sensitivity in longwave infrared range (8-12 µm), it features both shutter and shutterless operation and rapid image output on power up while delivering uniform response over the entire operating temperature range, making it an ideal component for thermal imaging systems requiring uninterrupted image acquisition.
The GX series also offers our own advanced 21-bit ADC design for unparalleled intra-scene dynamic range without the need for a gain reduction, allowing for the best possible NETD over a vast range of temperature (>600C).
General Specifications
Resolution
320 (H) x 240 (V) or 640 (H) x 480 (V)
Frame Rate
30/60 Hz
Pixel Size
17 µm
Temperature Accuracy
GXM: non-radiometric

GXF: +/- 1°C accuracy from 25 to 45°C

NETD
≤50 mK; F/1.0, at 30 fps
Size
29 mm x 37 mm x 59 mm
Mass
66.7 g (without lens)
Operating Temp
-40°C to 65°C
I/O Options
GigE Vision, CSI-2
The Calibir GX cameras are currently classified as a "Dual Use" item under Group 1 (1-6.A.3.b.4.b) of the Canada Export Control List and Category 6 (6.A.3.b.4.b) under the Wassennaar Arrangement on Export Control for Conventional Arms and Dual-Use Goods and Technologies. As such, the Camera is subject to export control – export authorization is required to export the Camera from Canada, whether on a permanent or temporary basis.
Radiometric operation for precise temperature output
21 bit ADC for immense intrascene dynamic range
Gigabit Ethernet (GigE)
General purpose opto-coupled input/ output (external trigger user, count, or timer driven triggering). Contact us for other options (MIPI-CSI2)
Flexible general purpose Counter and Timer functions for internal/external controls
Defective Pixel replacement
Adaptive Image Enhancement
IEEE1588-2008 Precision Time Protocol synchronization capable
Built-in Pseudo-color for enhanced visualization
Image metadata supported
Application development with the freely available Sapera™ LT software libraries
Internal mechanical shutter for remote recalibration
Made in Canada
Thresholding with LUT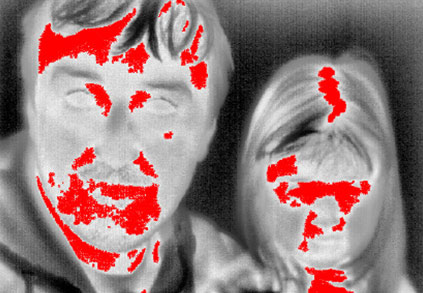 Calibir GX and its control software allow you to set your own LUTs (look up tables); with this control, you can mark certain temperatures with color while leaving the rest monochrome. For example, show everything between 38 and 41°C as red.
Frame Averaging for Extra Precision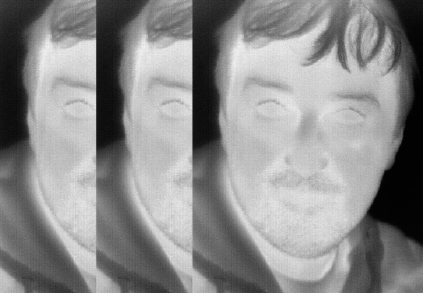 Calibir GX supports a smart frame averaging feature that can be tuned to minimize read noise according to your tolerance to movement, allowing any detection system to reach extremely low NETD values.
Superior Dynamic Range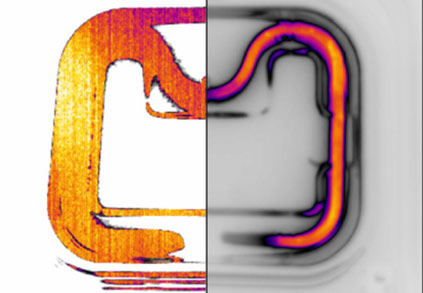 The details in this thermal image of an electric heater element shows Calibir GX's exceptional range (right) compared a third party detector (left). With a temperature range over 1500°C with consistent NETD <0.05°C, enabled by our advanced 21-bit ADC, Calibir GX offers unprecedented radiometric detail. For much smaller temperature ranges (e.g. 25°C to 45°C), Calibir GX can output an 8 bit (sub)range of values for convenient integration that still has 21-bit precision and accuracy.
Regions of Interest (ROI) and Metadata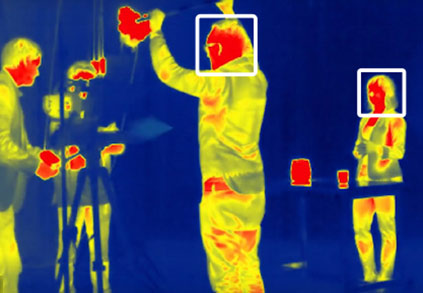 Up to two Regions Of Interest (ROIs) can be defined inside the camera: size, location, and the Min/Max/Average temperatures in each ROI can be displayed as well as the Min/Max/Average indication on the entire image. All this information is available in an easy metadata protocol that can be used to launch alerts or to combine with other types of image sensor (like visible CMOS sensor for identification for example). Metadata with ROIs temp information can be added to the image buffer.
Application Highlight: Temperature Screening Systems with Calibir GX
Calibir GX has nonuniformity correction and is factory calibrated with a proprietary flux/temp base algorithm to account for black-body/Planck's Law (IR flux from an object does not change linearly with object temperature). The result is camera output that is linear with IR flux, and each output color or grey level corresponds to an unique object temperature, simplifying your system. The camera can be used as a component in a temperature screening system; the images below illustrate this potential.
Model Part Numbers
Lens Mount
EFL
(mm)
Aperture (1/f)
HFOV
(degrees)
VFOV
(degrees)
Lens
Weight
Total
Weight
IR-GMZG-4101000
M25
7.48
1.23
90.8
65.1
35g
101.7g
IR-GMZG-4102000
M25
8.52
1.24
73.2
54.4
34g
100.7g
IR-GMZG-4103000
M25
14.2
1.24
42.1
31.9
25g
91.7g
IR-GMZG-4104000
M25
19.0
1.03
32.3
24.4
31.2g
97.9g
IR-GMZG-4104500
M25
25.0
1.20
24.2
18.4
40g
106.7g
IR-GMZG-4105000
M25
35.0
1.14
16.9
12.9
45.9g
112.6g
IR-GMZG-5505000

M34

50.0
1.0
12.3
9.3
143
210.0g